Preview of my Kentucky story for Blue Ribbon Report
As mentioned in my previous post, I'm doing some work for the new Blue Ribbon Report.
Here's a free preview of my first story, which is available for Blue Ribbon Report subscribers. You can click the button below the preview for subscription options.
Thanks for reading!
---
Reid Travis, Nate Sestina, and the value of grad transfers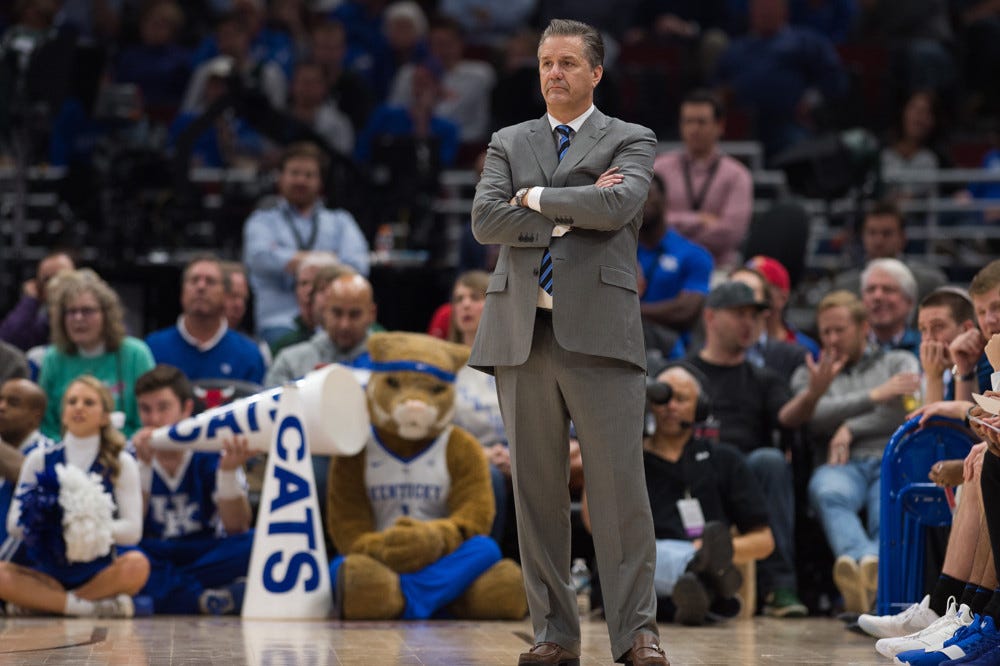 John Calipari (Zach Bolinger/Icon Sportswire)
The goal of every team in college basketball each season is to win the national championship. It's a realistic goal for some, not so much for most. 
Kentucky falls into neither of those groups.
For the Wildcats, winning the national title isn't just a goal, it's an expectation. That has seemingly always been the case in Lexington, but things were taken up a notch when John Calipari became head coach in 2009. Since then, Kentucky has made the Final Four three times, captured one national championship, and won 81.1 percent of its games.
The Wildcats' accomplishments each season have been mostly fueled by the nation's most talented recruits. 
The numbers speak for themselves when it comes to Calipari's success on the recruiting trail in his first 11 seasons: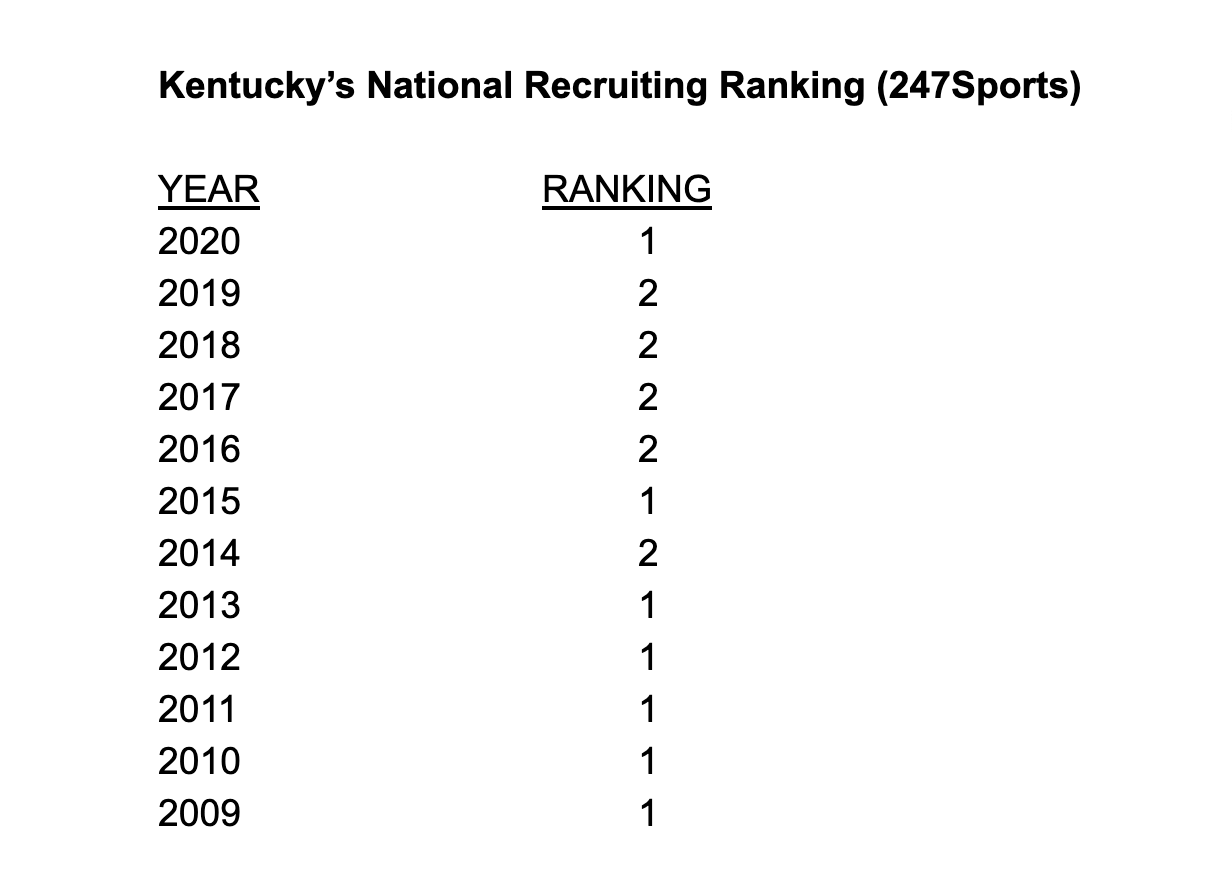 Just like winning a national title, having a top recruiting is no longer a goal, but an expectation. The data suggests that trend won't change as long as Calipari is in charge. 
One trend that has changed is Kentucky's receptiveness to graduate transfers. For three straight seasons, Calipari and his staff have recruited a grad transfer to Lexington. 
Reid Travis—a former first-team All-Pac-12 selection—transferred from Stanford to Kentucky for the 2018-19 season. The 6-8 forward averaged 11.2 points and 7.2 rebounds in his only season, playing a pivotal role in helping lead the Wildcats to the Elite Eight. 
Nate Sestina earned second-team All-Patriot League honors at Bucknell before heading to Lexington for the 2019-20 campaign. He added size and perimeter shooting to a team that was capable of making a Final Four run before the 2020 NCAA tournament was canceled.
The Wildcats' most recent grad transfer is former Creighton guard Davion Mintz—a 6-3 point guard who started 79 games in three seasons with the Bluejays. He figures to be an important piece in 2020-21.
All three players are different. They have different backgrounds, personalities, and skillsets. But the common theme that ties them together is they've all become the cornerstone of experience for a program that perennially lacks it.
Something else that connects them is that they're not joining just any program. They're joining Kentucky.
"What you immediately gain when you bring in older guys is someone that knows the landscape of college basketball," Kentucky assistant coach Joel Justus says. "We've had three guys that have been a part of different backgrounds in their college experience. But none of them have been somewhere where the expectation is to win every single game and compete for a national championship. 
"While they bring tremendous leadership, maturity, the understanding of what it's like to work every single day, to practice hard and be in a competitive setting, they still have to understand doing it at a higher level."
Stepping into the pressure that comes along with playing for the winningest program in college basketball can be a challenge. It's not for everyone, no matter how talented or experienced.
As Justus notes, what matters most is whether it's the right move for all parties.
"Anytime you're recruiting at Kentucky, it's gotta be the right fit," Justus says. "It's the same thing for a high school senior. It becomes a little bit of a quicker process if you're older just because you have more of an established body of work." 
Because of the coronavirus pandemic, the staff is still working on figuring out Mintz's role. But Travis and Sestina each brought an element of experience that proved to be invaluable for the Wildcats.
Most importantly, they were the right player at the right time for the way the roster was already constructed.
"Nate and Reid were two very different personalities," Justus says. "But they probably fit in better with their individual teams. If you flipped the two, I'm not sure it would have worked as well."
In Travis' case, he joined a young group that was more free-flowing and outgoing in its approach. Travis and then-sophomore P.J. Washington became the model of seriousness as two older, mature players who were driven and focused.
When it was time for the younger players to buckle down and get to work, Travis and Washington made it known.
"Reid brought a very serious level of work to a team that needed maturity," Justus says. "He was so quiet and business-like, whereas Keldon [Johnson] and Tyler [Herro] and Ashton [Hagans] were kind of Chatty Cathy, but they had great energy and were so fun and competitive."
(Cont.)
---
Read the full story at Blue Ribbon Report
We also have insight from Ole Miss coach Kermit Davis, Wake Forest coach Steve Forbes, UAB coach Andy Kennedy, San Diego State coach Brian Dutcher, Gonzaga assistant Tommy Lloyd, and former Gonzaga star Dan Dickau on the impact of transfers in college basketball.
Thanks for your support of Blue Ribbon!